Are you brand-new to Docket and wondering where to start learning your new software platform?
Has your account been live for a while, but not sure you're fully using all of Docket's features?
Did you hire a new employee that needs to learn how to help you run your business in Docket?
If so, we'd like to introduce you to our "Getting Started with Docket" training course!
It's designed to streamline new users' onboarding and learning experience, act as a refresher on Docket's basics for existing users, and ultimately make you and your team as successful as possible!
Before You Start
Here are a few things to know before you continue:
This course is absolutely free for any Docket user!
This course is primarily addressed to Admins working in Docket, regardless of their responsibilities or access level.
In order to access this course, you must first register as a user in Docket's

Learning Hub

.
Overview
"Getting Started with Docket" is a comprehensive training course that guides almost every type of user through setting up their Docket account and working in it daily.
Some of the topics include:
Adding and managing your employees, vehicles, and customers.
Selecting your main account settings, billing workflow setting, and customer management settings.
Setting up your pricing models in Docket using a pricing matrix, pricing (billing) templates, or both.
What workflows to follow when creating tasks, optimizing your drivers' routes, and sending invoices to customers for payment.
And the best part? It's available 24/7 and accessible on any device, so you can learn when and where you want to!
How to Register in Docket's Learning Hub
You'll need to register in the Learning Hub first before you can review, enroll in, and complete "Getting Started with Docket".
Go to

learning.yourdocket.com

.
Click on Create an Account.




Fill in the required fields that appear, accept the terms and privacy policy, check "I'm not a robot", and click Register once you're ready to create your account.
Your account will automatically be created and you'll have immediate access to the Learning Hub!
Please Note: You won't receive a confirmation email regarding your account's creation, so please save your login information somewhere you can easily access it in the future.
How to Enroll In and Begin the Course
Once your Learning Hub account has been created, you'll be able to access the "Getting Started with Docket" training course.
Click into the Courses tab in your left-hand menu.
Click on the "Getting Started with Docket" course card.




Read the course overview at the top and then scroll down to click into the first lesson.




Clicking into the first lesson will automatically enroll you in this course and the green progress counter to the right will start tracking your progress.
How to Complete the Course
As you watch each video lesson and complete each Action Item Checklist, your green progress counter will track your progress through the course.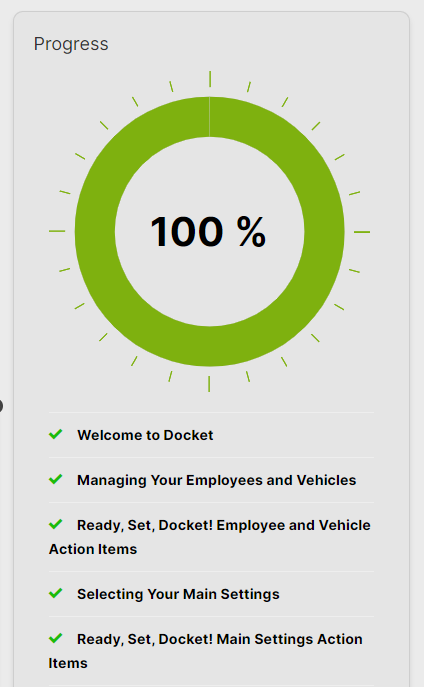 In order to reach 100% completion and receive your completion certificate, you must watch every video lesson, complete each Action Item Checklist, and submit your answers to our Final Course Survey at the end.
Once that's all done, your green progress counter will display 100% and you'll be able to view or download your completion certificate.
How to Download Your Completion Certificate
After you've finished the "Getting Started with Docket" training course, you can easily view and download your course completion certificate.
From anywhere in the Learning Hub, click into the Dashboard tab in your left-hand menu.
Click on the certificate image in the Certifications section.




Bask in the glory of your achievement or click Download Certificate at the top!




If you have any questions, please reach out to our Support team through the green chat widget on the bottom right of this page or by sending an email to support@yourdocket.com!